Red Goose
Turn your
website

into a

mobile app

.

A #nocode solution to convert your website into a high-quality iOS or Android application with just your URL.
Fast-growing businesses choose Red Goose to launch their apps quickly:
iOS App
In 24 hours we will convert your website into a solid ready-to-launch iOS application that you can upload to the App Store.
Android App
In 24 hours we will convert your website into a solid ready-to-launch Android application that you can upload to the Play Store.
How it works
1. Submit your website.
Enter the website you'd like to convert into an app.
2. We serve your app.
We will develop and deliver your app within 24 hours.
3. Publish on app store!
Upload your app on the App/Play store. Done.
Who is Red Goose for?
Businesses that want to get on the app stores. Quickly.
☞ Red Goose is ideal for small teams (or solo founders) that don't have an army of engineers to develop and maintain separate iOS and Android applications.
☞ We recommend adopting the Red Goose when your web-app is live and stable, and your focus has moved on to scaling your business and performance optimization.
See the full list of features on Red Goose apps.
Why do our friends love the Red Goose?
I have needed a quick and effortless way to make my web-app native with push notifications for a long time. Red Goose made that a reality for me with a blazing fast turn around. I'm still shocked I didn't have to pay more!
Whitelabel and fully customizable.

Think of Red Goose as the first stable version of your mobile app. The version 1.0.0. We provide a high-quality starter app and a custom readme to walk you through setup and deployment.

Fully customizable and available for feature development.

Top notch performance.

Red Goose is blazing fast. It's not only fast in of itself but also pushes you to focus on the speed and performance of your web-app. To its limit. And then help you decide if a full-suite native app is needed in the future.

Start your journey on apps with your best foot forward.

Save months of dev time.

We handle all the annoying details so you can focus on building your business. Our friends say that we saved them at least three months of development time and helped them launch sooner.

Tap into the loyalty of your most passionate users right away.

14-day money back guarantee. 🔥🔥🔥

If you are not satisfied just let us know and we will send your money right back. We want to make your life easy, not harder.

Plus, we love customer support ❤️.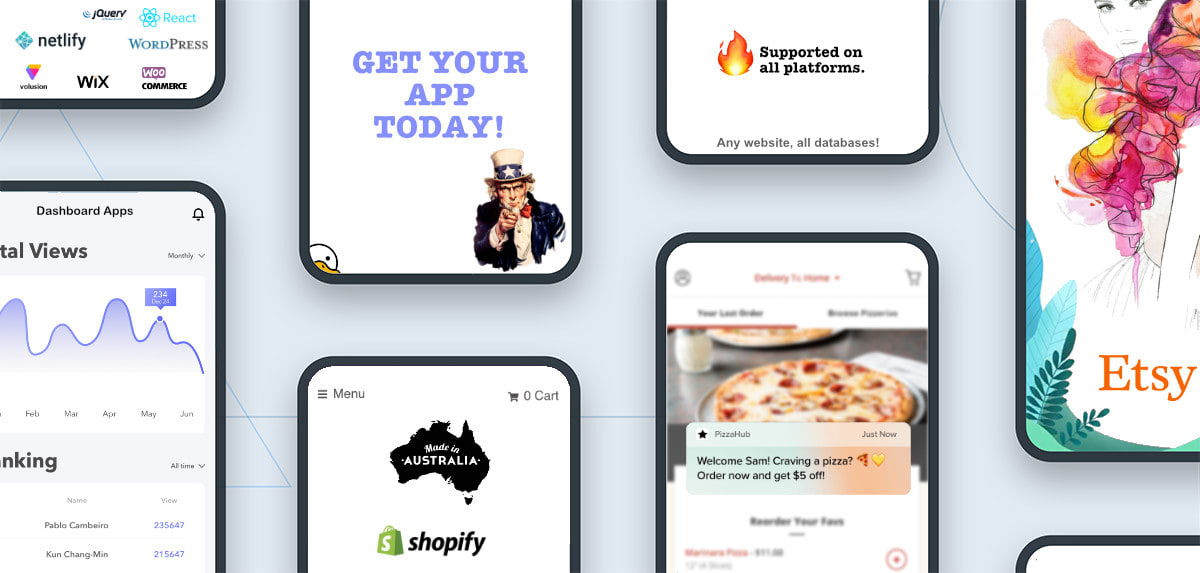 Top features
Click on each tile to view feature documentation in depth.
☞ Only the features that matter. Minus all the hype. ☜
*.example.com from United States purchased app.
One minute ago.